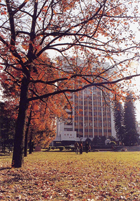 Founded in 1958, Fuzhou University is one of the national key universities that are selected into the "211 Project", a Chinese government programme for the 21st century to support 100 selected universities for their further rapid development. Since its establishment, Fuzhou University has developed into a key comprehensive university in Fujian Province, giving priority to engineering courses and also enjoying a reputation for excellence in other fields including sciences, economics, management, liberal arts, law, arts and design, etc.
Now Fuzhou University covers more than 333 hectares, including several campuses such as Yishan campus, Qishan campus, Tongpan campus and the School of Art and Design in Xiamen. The main running campus is located in Qishan campus of the University Town of Fuzhou Region. There are 19 schools in Fuzhou University mainly for undergraduate education and two independently operated colleges -- Zhicheng College and Yangguang College. There are 4 post-doctoral research stations, 9 doctoral degree programmes for the first-rank disciplines, 54 doctoral degree programmes for the second-rank disciplines, 29 master's degree programmes for the first-rank disciplines and 168 master's degree programmes for the second-rank disciplines and 11 professional degree authorization stations.
Fuzhou University has been approved by the Ministry of Education to offer undergraduate and postgraduate programmes to students from Hong Kong, Macao, Taiwan regions and foreign countries. At present, there are about 50,000 students in Fuzhou University, including about over 5,200 doctoral and master's degree seekers. Since its establishment, about 200,000 students graduated from Fuzhou University, including full-time doctoral and master's degree students as well as those with the bachelor's degrees and associate degrees.
Fuzhou University has been taking great efforts to develop the cooperation and exchange. The international and national academic conferences have been conducted successfully in Fuzhou University so that the social academic influence from Fuzhou University has been enhanced. Academic exchanges on science, teaching and culture with Taiwan, Hong Kong and Macao regions have been actively carried out. The University is also positively engaged in promoting the exchanges between Chinese civilization and western civilization. "Library of the Western Belvedere", the first western works center in China, and Institute of International Sinology have been established. The favorable collaborative relationship has been established with more than 20 universities in different countries, such as the United States, the United Kingdom, Germany, France, Russia, Japan, South Korea and so on. Fuzhou University has become an important window of scientific, academic, educational and cultural exchanges in Fujian Province.